ENTROPIE founded in 1980, is an engineering company specializing in the design and manufacturing of sea water desalination plants based on Multiple Effect Distillation (MED, MED-TVC, MVC) and Reverse Osmosis.
ENTROPIE operates a Quality Management System which conforms with the requirement of ISO standards 9001 : 2015 & and Environmental Management System and a Quality and Environmental Policy. Since 2005, ENTROPIE is a fully owned subsidiary of SIDEM which is part of the Veolia Water Technologies branch of the Veolia Group.

Present on the 5 continents with a turnover exceeding 25 billion Euros and more than 169 000 employees worldwide, VEOLIA is the world's leading water treatment specialist for both industrial and municipal applications.

ENTROPIE sells equipment of its own design, performing all detailed engineering, procurement and manufacturing management. ENTROPIE also assumes responsibility for plant installation, start-up, commissioning and plant operation when required.
Today's staff : The company has a staff of around 40 employees including 30 graduate Engineers and Technicians.
The Turnover : Average consolidated turnover of ENTROPIE over the period 2007-2022 reached 22 millions Euros of which around 98 % were sourced on export contracts.
The know how : Heat transfer / process engineering : evaporation, vacuum systems, vapour compression, reverse osmosis, ... In permanent search of new technical developments, ENTROPIE offers equipment optimised to fit the requirements of our industrial customers.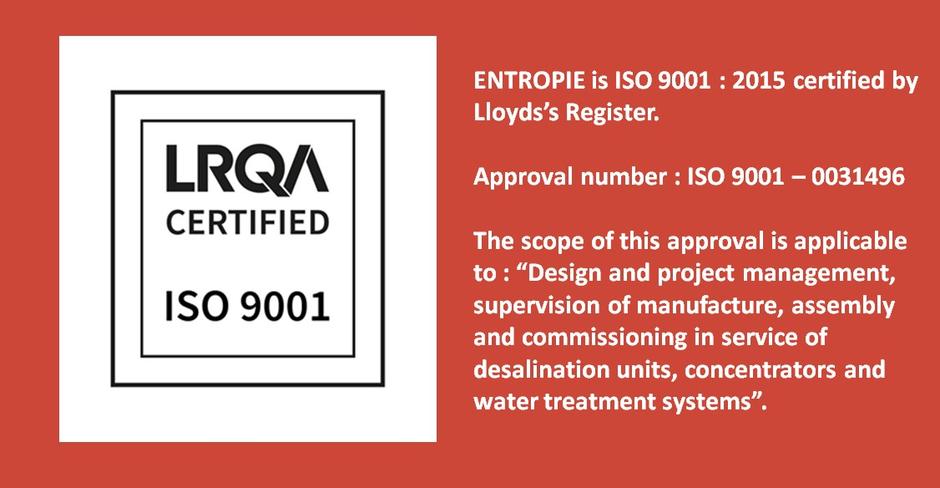 OUR PRODUCTS
Based on water, energy, processes and environment, the main products offered
Sea water or brackish water desalination plants based on the Vacuum Distillation process
ENTROPIE with its mother company SIDEM have provided more than 80 % of the world's installed capacity of desalination plants using the Multiple Effect Distillation (MED) process. Both companies with other subsidiaries of the VEOLIA WATER Solutions & Technologies group such as WESTGARTH, OTV, BEKOX and METITO Saudi Arabia, cover the full range of technologies presently available for sea or brackish water desalination including all pre and post treatments required.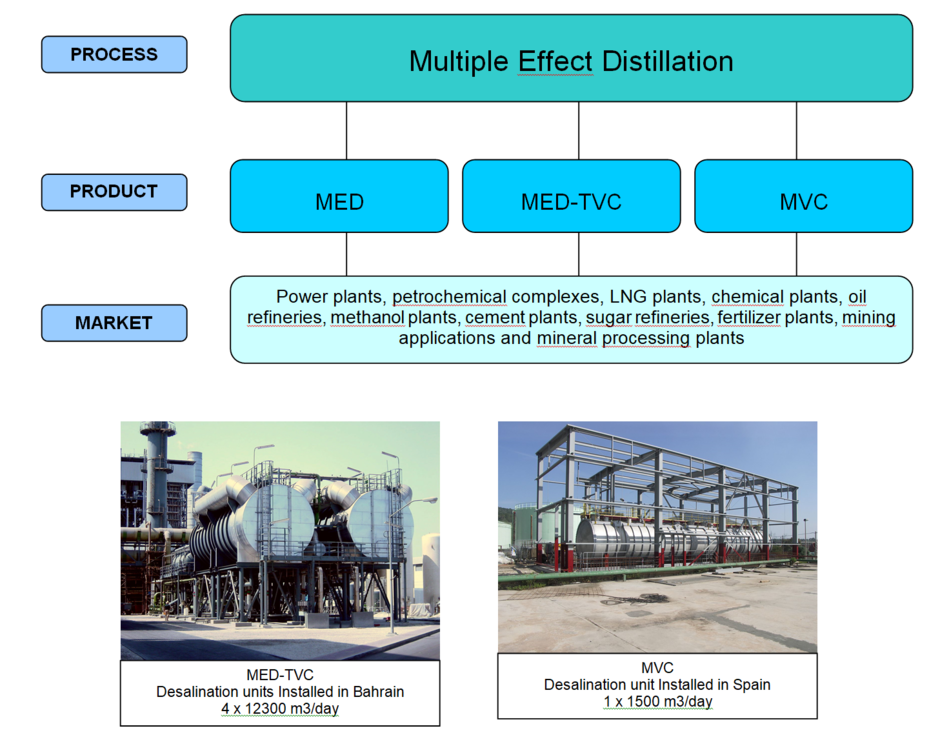 Sea Water Desalination by Reverse Osmosis
Combining ENTROPIE strong experience of sea water desalination for the industrial market and Veolia Water Technologies expertise on the Reverse Osmosis, ENTROPIE has developed a line of offers for Reverse Osmosis Sea Water Desalination units.