Water sanitation is our specialty
Veolia Water Technologies shares expertise with public and private customers to ensure the optimised management of effluents and wastewater – with absolute respect to the latest sanitary standards. Our sanitation technologies form part of a sustainable development approach that is essential for the planet and for the conservation of water.
Veolia: specialist in water treatment technologies

Veolia's teams rely on a considerable number of patented technologies to offer each professional or public organisation a customised sanitation system that strictly adheres to their relevant specifications. We have more than 9,000 employees spread across five continents as part of our network of highly specialized subsidiaries – all experts in their respective fields of wastewater treatment.
As a major player in sustainable development, Veolia Water Technologies has a wide range of solutions including:
sanitation technologies;
sludge treatment technologies;
recovery of reusable materials wastewater.
It's not wastewater. It's resource water

Converting wastewater treatment plants into biorefineries capable of producing energy as well as valuable by-products such as biopolymers.
With our treatment technologies, municipalities are able to produce:
reusable water
fertilizers
nutrients
thermal energy
electrical energy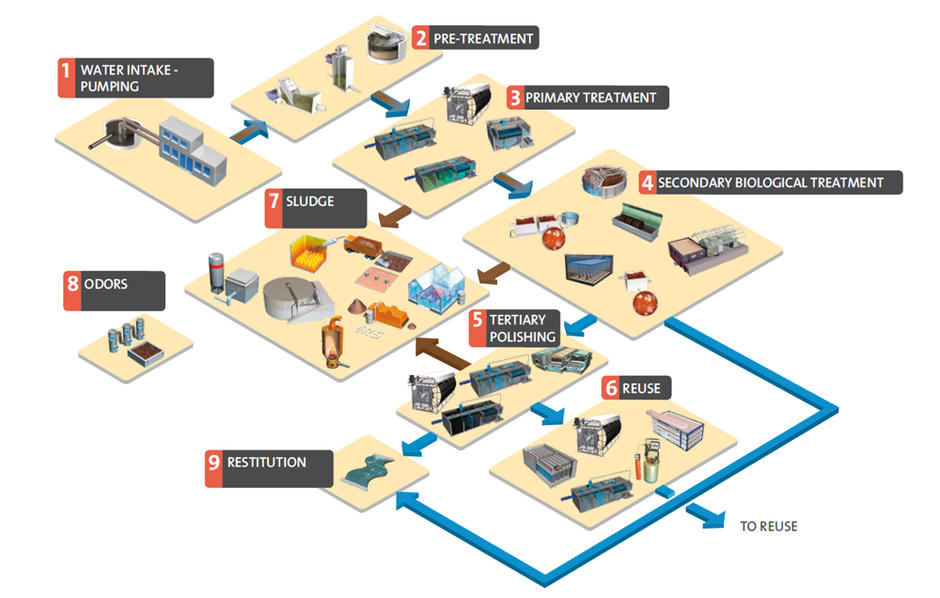 We provide all sanitation equipment needed for the day-to-day operation of safe and environmentally-compliant wastewater treatment plants of capacities and we offer tailor-made, efficient and cost-effective solutions covering the entire cycle of wastewater treatment:
- Primary treatment: the first stage of the water treatment process focuses on separating suspended solids (SS) from wastewater. We remove 70% to 90% of these materials through our flocculation / coagulation / settling and flotation processes – with the injection of chemical reagents depending on the degree of purification required.
- Secondary treatment: secondary treatments then use advanced biological treatment methods, leveraging the ability of certain bacteria, to eliminate dissolved pollutants contained in wastewater – such as carbon, nitrogen and phosphorus pollutants. These biological treatment methods are sometimes associated with the use of chemical reagents when treatment goals are high.
 
3 - Tertiary treatment and reuse: this final stage looks to remove any remaining dissolved solids from purified water and disinfected wastewater so that the treated water can be reused for other purposes.
4. Sludge treatment: the pollutants eliminated during treatment operations become sludge, and recycling and recovering this substance is one of our specialities at Veolia Water Technologies. Thanks to our range of technological solutions, there are many companies and sectros that can use our treated sludge – such as in agriculture, energy and materials construction.
Odour Management

To remove any unwanted odours, while also guaranteeing compliance with air quality regulations, we ensure polluted air extraction takes place continuously throughout the water treatment process. The extracted air is then treated appropriately before being expelled.
What are our wastewater treatment technologies to support your sustainability goals?

On a daily basis, Veolia Water Technologies provides innovative and scalable solutions to thousands of customers around the world – for the efficient and sustainable treatment of their wastewater and effluents. Our broad portfolio of patented technologies and global network of experts provide peace of mind for all professionals – particularly those working in industries subject to strict health and environmental standards. We seek to continuously improve our sanitation systems through the gathering of systematic feedback from our engineers in the field.
 
Veolia Water Technologies' treatment technologies include:
Actiflo, a lamellar settling process using weighted flocs. This patented high-speed clarifier is exclusive to Veolia Water Technologies. Actiflo has over a thousand references worldwide, having proved its effectiveness in local communities and industries for more than 25 years.
Actiflo Carb, specially designed for the treatment of refining treated water. It combines Actiflo technology with the absorbent principles of activated carbon to eliminate certain compounds, such as micropollutants, which are not eliminated using traditional chemical processes.
 
 Biostyr, a bio solution for the filtration of water. This innovative process eliminates pollution and suspended particles in facilities that process wastewater with minimal impact. The modular design makes this tool well suited to dealing with sudden changes in activity load.
The MBBR technology from AnoxKaldnies makes it possible to extract the value from sludge without generating undesirable effects. The microfiltration system uses biofilms on plastic supports designed to be kept in suspension inside the reactor.
Aquilair, a deodorisation technology based on the transfer of odour molecules from gas to liquid form. This process, which reduces odours by more than 99%, treats the smelliest effluents in one or two washes using chemical processes.
 
The chemical conditioning of water

All sanitation plant requires chemical for optimal operation. The chemicals used to ensure water can be reused have a significant impact on the long-term reliability of facilities. Our range of water treatment chemical HYDREX help customers optimize the performance and safety of their water cycle while reducing maintenance and operating costs.
 
Veolia Water Technologies, a water treatment specialist, associates state-of-the-art technologies to meet municipal and industrial clients' needs worldwide. Our sewage treatment know-how is one of the key pillars of the expertise we provide them to support their sustainable development goals.